Latest News
June 8, 2015 (i2-tech's Morgan Endecott Plastics News' CFO of the Year)
i2-tech's CFO helps grow the business in addition to practicing taekwondo, gardening, horse back riding...read more.
---
May 29, 2014 (i2-tech Adds Rapid Prototyping Capabilities)
i2-tech adds Rapid Prototyping capabilities. We now have the capability to produce rapid prototypes in multiple colors using ABS material. Our 3D printer with a dual extruder allows 2 different colors to be printed simultaneously. The build volume for a single part is 24.6L x 15.2 W x 15.5 H cm. Larger parts can be produced using multiple steps and fusing them together. Our customers now have the advantage of receiving experimental parts without the additional cost of injection mold tooling. Using this process saves time and money by having form, fit and function upfront prior to the injection mold tool purchase. Contact us for more information at (515) 440-8858.
---
Nov. 22, 2013 (i2-tech Welcomes It's Newest Big Press!)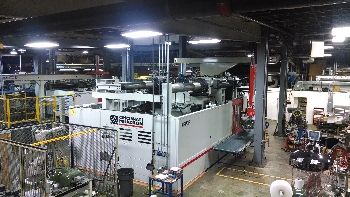 We recently took delivery of a brand new Milacron Maxima G Servo 3300 Ton. This monster increases our maximum tonnage capacity by 10% and makes i2-tech the only molder in Iowa with two machines over 3000 tons. This gives us an incredible advantage over our competitors to reliably deliver large parts to our customers. With the latest technology this machine is more user-friendly and provides 60% energy savings over older models. There is also a retractable tie bar which greatly reduces the height necessary to raise the mold making the machine safer and more efficient. Its servo motor design provides improved repeatability, and lower operating noise.
The new machine is expected to be in full production by November. Our Maintenance staff has worked incredibly hard over the past 3 weeks getting this machine installed. A special thank you to Todd Waters, Tony Acevedo, Mike Waters, Travis Carruthers, Ryan Faust, Kevin Engle, Chuck Russo, and Jim Wuebker for their efforts! You did an amazing job!
---
Oct. 25, 2013 (i2-tech CEO Honored as Distinguished Alumni)
Bob and Charllotte Janeczko have given generously to University of Wisconsin-Stout located in Menomonie WI and now have been honored with Distinguished Alumni Awards from the Alumni Association. Bob and Charllotte met while attending UW-Stout and credited their education at Stout with their successful careers that followed.
The Alumni Association also honored members of the John Leon Abrams Memorial Scholarship Committee. The new scholarship will benefit students enrolled in the plastics engineering program and is named in honor of Lt. John Abrams, who died in the Vietnam War.
"I am continually impressed with the generosity of our alumni, both financially and with their time," said Chancellor Charles W. Sorensen. "I know these award winners well, and these honors are well-deserved."
"The Alumni Association is incredibly honored to be recognizing the outstanding efforts of this deserving group of distinguished alumni," said Juliet Fox, Alumni Association director. "They have dedicated their lives to making a difference in their communities, professions and UW-Stout. They are an inspiration to us all."
On behalf of the Stout University Foundation, I am delighted that the Alumni Association has given its prestigious Distinguished Alumni Award to Charllotte and Bob Janeczko…. said Mark Parsons, vice chancellor for University Advancement and Marketing and executive director of the Stout University Foundation.
The Abrams group, Parsons said, did "great work in raising funds for student scholarships and in honoring Lt. John Abrams," while the Janeczkos … "have provided tremendous leadership in philanthropy and also in service and volunteer activities for their alma mater."
Bob Janeczko graduated in 1963 with a degree in technology education, and Charllotte graduated in 1965 in home economics education. Bob held executive and academic positions before buying Innovative Injection Technologies in 2003. Charllotte is a retired teacher and homemaker. Their company engineers plastic components and subassemblies in West Des Moines, Iowa.
The Janeczkos also have pledged more than $1 million for scholarships, to go to plastics engineering students.
Abrams graduated in 1962 from UW-Stout. He died July 13, 1968, in the Mekong Delta region of Vietnam when the Navy helicopter he was piloting crashed after being hit by enemy fire. Eight members of the Sig Tau Gamma fraternity, of which Abrams was a member, started an endowed scholarship to honor their friend.
Members of the scholarship fund were honored as distinguished alumni. They are: Bob Dealey '64, Jerry Burke '63, Bob Janeczko '63, Bernie Howaniec '67, the late Dave Meilahn '63, James Rathert '64, Dave Reisinger '62 and Brian Walker '64.
---
June 17, 2013 (i2-tech Supports Plastic Engineering Scholarship At The University Of Wisconsin-Stout)
Menomonie, Wis. — A donation by a group of University of Wisconsin-Stout students has pushed a special scholarship fund to the $50,000 mark. The UW-Stout student chapter of the Society of Plastics Engineers recently donated $100 to the John Leon Abrams Memorial Scholarship to help it reach the milestone funding level in less than one year.
"We are honored to have the opportunity to make this donation in the name of a Stout alumnus who died for our country. This scholarship will help plastics engineering students shape their futures and prepare them for a career in the field," said Dayton Ramirez, of Lone Rock, the student chapter vice president.
The scholarship will be awarded annually to a plastics engineering student who is active in campus activities; a veteran or member of the military; or a descendant of a veteran. The SPE chapter, which has 36 members, recently was named one of two outstanding chapters of the year at an industry conference in Cincinnati. The chapter also received a Certificate of Merit this spring from the Stoutreach Service Council for volunteering with STEM Career Day and three local Science Olympiad events.
The Abrams scholarship fund benefited from another recent donation to move it closer to the $50,000 goal. That donation was made by the scholarship's memorial committee.
The endowed scholarship was created in 2012 by eight classmates and members of the Sig Tau Gamma fraternity, of which Abrams was a member. The group started the committee to honor their friend, who died in action in 1968 in Vietnam.
Committee members, all of whom are 1960s UW-Stout alumni, are Jerry Burke, Bob Dealey, Bernie Howaniec, Bob Janeczko, Dave Meilahn, James Rathert, Dave Reisinger and Brian Walker.
The scholarship largely was funded through contributions from former classmates and the plastics industry, including the Mold Making and Mold Design Division of SPE, i2-tech, Triangle Tool, Bemis Manufacturing, Phillips Medisize, Snap-On Tools, the Chicago Section of the Society of Plastics Engineers, the Chicago Section Educational Foundation and the Plastics Pioneers Association.
For a previous story about Abrams and the scholarship, go to www.uwstout.edu/news/UW-Stout-News-Story.cfm.
The first John Leon Abrams Memorial Scholarship was awarded in September, 50 years after Abrams graduated.
To donate to the Abrams scholarship fund or other scholarships at UW-Stout, contact the Stout University Foundation, 715-232-1151 or go to www.uwstout.edu/foundation.
---
March 3, 2013 (Innovative Injection Technologies (i2-tech) Earns Recognition As A John Deere "Partner-level Supplier")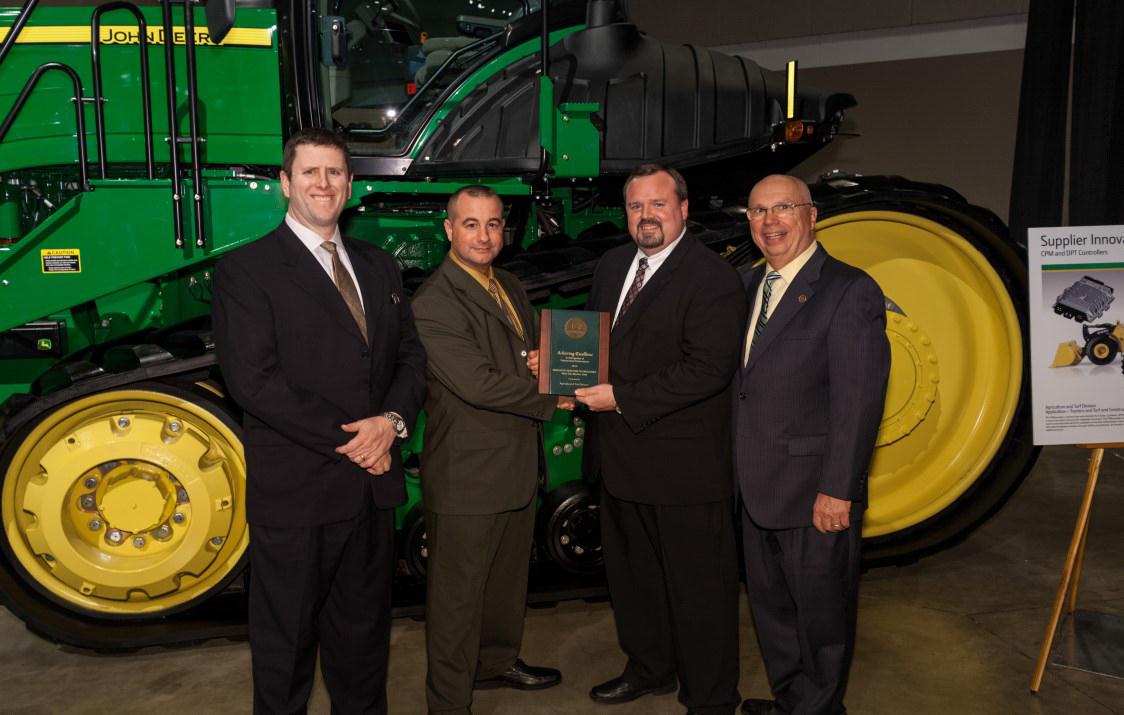 i2-tech has earned recognition as a Partner-level supplier for 2012 in the John Deere Achieving Excellence Program. The Partner-level status is Deere & Company's highest supplier rating. i2-tech was selected for the honor in recognition of our dedication to providing products and service of outstanding quality as well as our commitment to continuous improvement. Bob Janeczko, Dirk Arends and Brian Keller accepted the recognition during formal ceremonies held on March 5th in Davenport, Iowa.
Suppliers who participate in the Achieving Excellence program are evaluated annually in several key performance categories, including quality, cost management, delivery, technical support and wavelength, which is a measure of responsiveness. John Deere Supply Management created the program in 1991 to provide a supplier evaluation and feedback process that promotes continuous improvement
---
Spring, 2012 (Strategies For Today's Plastics Processors)
Those managing plastics operations – watching the metrics month in and month out – know that increasing productivity and focusing on quality measures, such as reducing waste, speeding delivery times and ensuring safety, has a direct effect on a company's bottom line. The challenge, however, is in transferring this understanding to frontline employees, who may not always connect small daily actions and habits with overall profits.
---
February 1, 2012 (New ESFR Fire Suppression System Installed)
Protecting our assets is a top priority and the potential for a fire just got a little less likely. i2-tech is pleased to announce the installation of a state of the art Early Suppression Fast Response (ESFR) fire suppression system. This new fire sprinkler offers drastically improved protection than our previous system. ESFR sprinkler heads sense a fire and begin spraying water in half the time of conventional heads. The sooner the system starts to fight the fire, the smaller the fire will be, so it is more likely that the ESFR system will be capable of extinguishing the fire promptly. The previous sprinkler heads output water at a rate of about 25 to 30 gallons per minute (gpm), and high output conventional heads (used with hazardous and explosive materials) output approximately 60 gpm. ESFR heads output water at 100 gallons per minute. This system is designed to insure any fire is extinguished rapidly with a massive amount of water, thereby providing maximum fire protection.
This $135,000 investment ensures valuable customer inventory will be safe from a potential fire. The best part about our new system is how it came with a 4 cylinder John Deere diesel engine! It also has a payback period of 3 years through lower insurance premiums!
---
February 1, 2012 (John Deere 7000 R Series Tractor Wins Tractor Of The Year Award At Agritechnica Show In Germany)
By Dirk Arends, Director of Sales and Engineering
John Deere's 7280R tractor won tractor of the year as voted on by 20 leading European farm machinery magazine editors at Agritechnica, the world's largest indoor agricultural equipment show. The editors narrowed the field down to 7 tractors, ultimately picking the 7280R introduced by Deere earlier this year.
Innovative Injection Technologies is particularly proud of our contribution to Deere's achievement as we have 17 new parts on this tractor as well as parts that carried over from the previous generation's design. i2-tech conducted several Design and Process and Assembly Reviews (DPARs) on the 17 new parts with Deere engineers to ensure the parts were capable of being manufactured within the design specifications and that the process was repeatable to fulfill the design intent. After we gave design input, we put each component through our New Part Introduction process in order to ensure success.
We make several of the cab components on the new 7280R as well as the large green fixed panels located behind the tractor's front wheels, which protect engine components. The fixed panels are molded from SLX polycarbonate, a temperature resistant, high strength material that offers great UV protection. We also helped develop a new texture for the mold that replicates a painted sheet metal surface with a very mild "orange peel" look. The SLX fixed panels are light, very strong, and the texture matches the other parts of the tractor for a uniform appearance.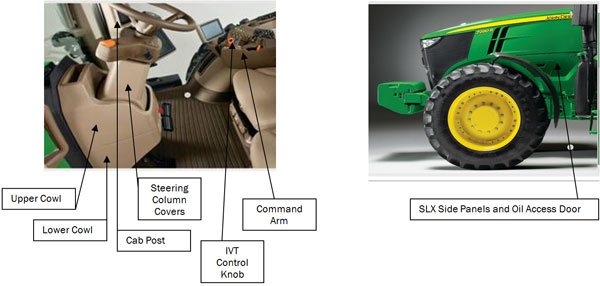 ---
October 10, 2011 (New Payroll And HR System)
For almost 10 years, payroll and HR have been using a server based system to deliver services to our employees. While the system served our basic needs, we still had to generate documentation (paper) to input needed information. Further, we had to generate numerous offline reports (more paper and time) to maintain federal, state and local government reports. We recognized that our current system was not efficient and antiquated. In January 2011, a team consisting of Morgan Endecott (CFO), Vanessa Qiu-Wen(Cost Accountant), Tracy Nunley (Network Administrator), and Lisa Buzzard (HR Manager), was organized to explore fully automated web based systems. After many months of research, we selected a new payroll/hr system from ADP. This system is in keeping with our continuous improvement efforts by allowing us to automate numerous tasks that were previously conducted manually. We anticipate migrating to the new payroll system in early October of 20111 and the HR system in early November of 2011. This new on line system will allow our employees to serve themselves. Some of the on-line self service features include: obtaining check vouchers, changing W-4 data, updating address and phone information, requesting vacation, submitting announcements, viewing training records, electing benefits during open enrollment, accessing the i2-tech handbook and viewing benefit plan descriptions. Also under our new system, managers and supervisors will now have access to their direct reports records. They will have the capability of managing employees using real time data. This will save time as they will no longer have to coordinate with payroll or human resources to obtain personal data needed to make management decisions. Over the next several weeks training on the new system will commence.